Registration of Overseas Suppliers
KPSC has Customers spreading over 100 companies in the Middle East, Southeast Asia and South America, and we receive over 10,000 inquiries annually, especially for equipment, spare parts and consumables.
Many of our customers are plants for Steel, industrial machinery, cement, fertilizers, chemicals, etc. constructed by our parent company, Kobe Steel. We have developed confidence in our business activities by working closely with these plants and rendering them timely services. We have been providing similar services to new Customers every year.
KPSC supplies spare parts from a bolt to leading equipment components and from devices to a set of equipment used in a wide range of industrial plants.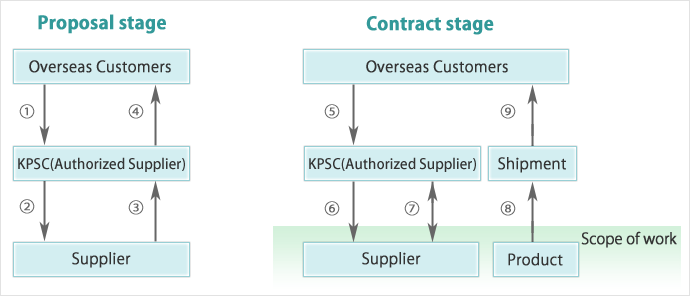 KPSC receives inquiries for spares or replacement of existing equipment or inquiries for new equipment and spares.
KPSC requests quotes from multiple Suppliers registered with KPSC or from amongst Suppliers in our records based on past experience.
After receiving quotations from Suppliers, KPSC selects the most suitable product on offer.considering delivery, quality, technical complexity, cost, etc.
Quotations are submitted to Customers.
After technical and commercial negotiation, Contract is secured.
KPSC selects the most suitable Supplier for order placement.
KPSC closely follows up order execution, performs interim inspection, quality and schedule control.
After final inspection, delivery is made to Customer on Ex-Works, Ex-Godown or on FOB basis depending upon terms of Contract with Customer.
KPSC completes export procedures and exports product to Customer.