Company Outline
Corporate Profile
Name:
KOBELCO Professional Service Co., Ltd. (KPSC)
Address:
4-2-7, Iwaya-Nakamachi, Nada-ku, Kobe 657-0845, Japan
Established:
July 2001
Capital:
20 Million Japanese Yen
Shareholder:
Kobe Steel, Ltd.(100%)
Sales:
JPY2,896 Million (Fiscal 2021)
JPY2,255 Million (Fiscal 2020)
JPY3,503 Million (Fiscal 2019)
Management:

| | |
| --- | --- |
| President | Yasushi Yamada |
| Director | Naoyuki Furuta |
| Director | Takenori Iida |
| Director | Tomohiro Inoue |
| Director | Naoki Umehara |
| Auditor | Kosuke Masai |

Employees:
100
Main Banks:
Aomori Bank, Ltd. (Rokkasyo Branch)
MUFG Bank Ltd. (Kobe Branch)
Mizuho Bank, Ltd. (Kobe Corporate Banking Branch)
Sumitomo Mitsui Banking Corporation (Kobe Main Office)
Tajima Bank, Ltd. (Kobe Branch)
Business Activities
Engineering, operation, maintenance for the treatment of nuclear power and special hazardous waste (chemical weapon, radioactive waste etc.).
Procurement, sales, import/export of equipment, machinery, spare parts and consumables for iron and steel plants and other industrial plants.
Project management, service, procurement and inspection services, and steel plant operational guidance.
Staffing Service
History
In July 2001, KPSC was established as a subsidiary of Kobe Steel Ltd. to provide engineering and maintenance service for the facilities related to nuclear power plants in Japan.
In April 2019, KPSC merged with Industrial Services International Co. Ltd.(ISI) within the same Kobe Steel Group.
About ISI: In April 1991, ISI was established by converting the then Plant Services Department of the Kobe Steel's Engineering & Machinery Division into an independent company to provide better global integrated plant services needed by the Industrial Plants constructed by Kobe Steel all over the world.
Organization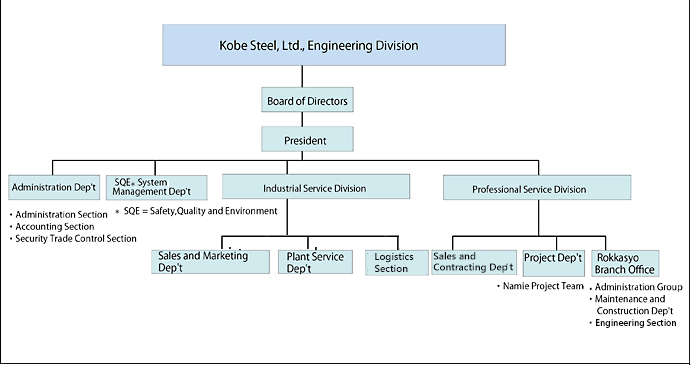 Corporate Philosophy
We supply world class, top quality products and services to meet the needs of various industrial plants around the world.

In an era of globalization, besides observing the highest ethical standards, our business practices strictly conform to internationally accepted rules of trade and commerce.

We have benefitted from a variety of natural resources necessary for our business activities from this earth.
Being fully aware of this fact, we consider it our responsibility to preserve and protect the environment.

Giving utmost importance to having a deep understanding of the traditions and practices prevalent in the societies in various countries, we constantly strive to develop a strong bond of cooperation, trust and mutual goodwill with our partners in achieving the twin goals of technical excellence and customer satisfaction.